GATE 2022
The graduate aptitude test in engineering (GATE) is an examination conducted in India that test the comprehensive skills of the undergraduate subjects in engineering and science for admission into the Masters Program and Job in Public Sector Companies. GATE is conducted severally by the Indian Institute of Science and seven Indian Institutes of Technologies at Roorkee, Delhi, Guwahati, Kanpur, Kharagpur, Chennai (Madras) and Mumbai (Bombay) on behalf of the National Coordination Board – GATE, Department of Higher Education, Ministry of Education (MOE), Government of India.
The GATE score of a candidate reflects the relative performance level of a students. The score is used for admissions to various post-graduate education programs like Master of Engineering, Master of Technology, Master of Architecture, Doctor of Philosophy in Indian higher education institutes with financial assistance provided by MHRD (Ministry of Human Resource and Development) and other government agencies. Lately, GATE 2022 scores are also being used by several Indian public sector undertakings for recruiting graduate engineers in entry-level positions. GATE exam is one of the most competitive examinations in India. It is also recognized by various institutes outside India such as Nanyang Technological University in Singapore.
also check: JEECUP 2022
ELIGIBILITY:
GATE 2022 will be held at the national level for admission of eligible candidates in ME/M Tech/M Arch/PhD courses. This year, IIT Kharagpur is conducting the exam on February 4, 5, 11, 12 and 13, 2022. The result of the entrance exam will be announced by March 17, 2022. Based on it, various institutes will grant admission. Apart from it, various PSUs will also recruit candidates.
·

The minimum qualification required for applicants is undergraduate and post graduate that is students who are in the third year, higher or already completed their undergraduate course can also applied for the GATE entrance test. Earlier, students were permitted to apply for only one subject or discipline.

·

Master's degree holders in any branch of Science/Mathematics/Statistics/Computer students or equivalent and those who are in the final year of such programs can also apply for GATE exam.

·

Candidates in the second or higher year of Four-year integrated master's degree programs (Post-B.Sc.) in Engineering / Technology.

·

Candidates in the fourth or higher year of Five-year integrated master's degree programs or Dual Degree programs in Engineering / Technology.

·

Engineering / Technology / Architecture / Science / Commerce / Arts is eligible to appear for GATE 2022 examination. Those who have completed section A or equivalent of such

professional courses are also eligible.
PAPER AND SYLLABUS
The GATE 2022 will be conducted for 29 papers.
DURATION AND EXAM TYPE:
The examination is of 3 hours duration, and contains a total of 65 questions worth a maximum of 100 marks. The examination for all the papers is carried out in an online Computer Based Test mode (online mode) where the students are shown the questions in a random sequence on a computer screen. The questions consist of some Multiple Choice Questions or MCQs. Remaining questions may be of Multiple Select Questions or MSQs (four answer options out of which ONE or MORE than ONE is/are correct, hence correct options need to be chosen) and/or Numerical Answer Type questions or NATs (answer is a real number, to be entered via an on-screen keypad and computer mouse).
Also check: CS overview
SYLLABUS:
·

Verbal Ability: English grammar, sentence completion, verbal analogies, word groups, instructions, critical reasoning and verbal deduction.

·

Numerical Ability: Numerical computation, numerical estimation, numerical reasoning and data interpretation.

·

Engineering Mathematics (not for all Papers)

·

Technical Ability: Technical questions related to the Paper chosen.
MARKING SCHEME:
The examination will consist of totally 65 questions, divided as One-mark and Two-mark questions. Out of 65 questions, 10 questions will be from General Aptitude (Verbal and Numerical ability) and 55 questions will be Technical. The General Aptitude section will have 5 One-mark questions and 5 Two-mark questions, accounting for about 15% of total marks. The Technical section and Engineering Mathematics section will combinedly have 25 One-mark questions and 30 Two-mark questions, accounting for about 85% of total marks. After that, all the sections may have some Multiple Choice Questions or MCQs, while remaining questions may be Multiple Select Questions or MSQs and/or Numerical Answer Type questions or NATs. The examination awards negative marks for wrong MCQ answers. Generally, 1/3rd of original marks will be deducted for wrong MCQ answers that is -0.33 for wrong One-mark answers and -0.66 for wrong Two-mark answers while there are no negative marks for multiple select questions and numerical answer type questions. Also there is no partial credit for MSQs and NATs.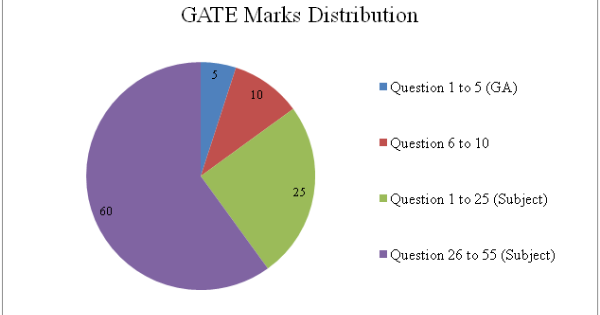 RESULT AND TEST SCORE
GATE results are usually declared about one month after the examinations are over. The results show the total marks scored by a candidate, the GATE score, the all-India rank (AIR) and the cut off marks for various categories in the candidate's paper. The score is valid for 3 years from the date of announcement of the GATE results. The score cards are issued only to qualified candidates
FEES CRITERIA
The fee amount is Rs1500 for the candidates belonging to SC/ ST and for the female candidates, the application fee is Rs750. Candidates who will apply for more than one course, the candidates has to pay double the fee. Candidates can pay a fee amount online, net banking, credit card, debit card, etc. Candidates who will pay the fee and submit the form successfully will be issued their GATE 2022 admit card on 3 January 2022.
also check: BCECE 2022